These all started with satin
covered ball ornaments.

The satin covering is very fine
thread and, after time and
use, it becomes snagged.

The crochet cover perks them up
and they come with a place
for a hanging hook.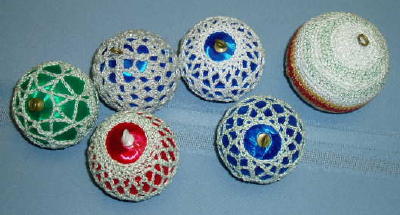 The striped ball
also started out with a
satin covered ball,
but the satin thread was
so damaged I just
removed it all and
- voila -
a nice styrofoam ball
ready for a
crochet cover.